The Graduate Program in Spanish at Florida International University offers an innovative curriculum that encompasses all aspects of Hispanic literature, culture and civilization, with an emphasis on the Caribbean, as well as courses in Spanish linguistics, literary theory, and teaching and research methodology. As a community of active scholars, we endeavor to offer each of our graduate students the opportunity for intellectual growth, development and interdisciplinary work within a multicultural environment, and to provide students with a rigorous theoretical foundation.
The courses offered reflect the variety of the faculty's interests as well as the students' needs, and engage different modalities of interpretation from stylistics and traditional philology to cultural studies, post-structuralism, new historicism and feminist theory. Our graduate faculty and advanced students are research active, and the department's collegial intellectual climate is reflected in their steady participation in conferences, symposia and research publication.
We hold a biennial international conference on Hispanic Studies that attracts scholars from all around the world, and gives our graduate students the opportunity to gain a useful experience in their professional training. In addition, graduate students can receive financial support from different sources to present papers at national and international conferences.
Most of our faculty and students are active members of the FIU Latin American and Caribbean Center (LACC), an organization that promotes advanced education and research on Latin America and the Caribbean. LACC offers publications and public education activities that address the full range of issues affecting hemispheric relations.
Our program also makes a solid commitment to all students in the area of professional development, to ensure that they will be knowledgeable about the profession and adept at the skills needed to be active and participating members of the academic world. As our Teaching Assistants gain pedagogical experience, they are given the opportunity to teach higher level undergraduate courses. Student progress throughout the program is carefully monitored and mentored. A rigorous and innovative Teaching Assistant training program prepares them for the instructional component of their future professional careers. In addition, the faculty sponsors yearly practical seminars and workshops that deal with various aspects of the academic profession.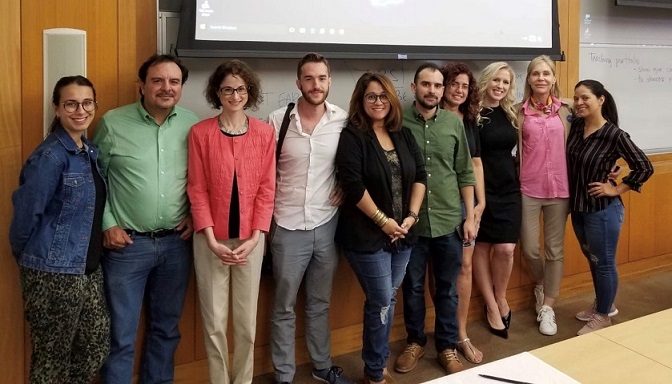 Graduate students at a job search and portfolio training workshop with Drs. Renée Silverman and Melissa Baralt.